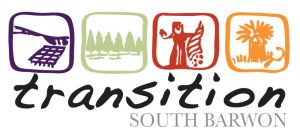 SEPT 2023 – NOTE: This website is undergoing a (long awaited) upgrade, so things might look a bit out of place for a bit – but all the content is still available in the menus above (or below).
Transition is a worldwide movement, where a grassroots community comes together to explore ways that a town or region can transition to a truly sustainable, resilient and happier future for everyone.
See our about us page for more information.
TSB's primary focus is on the Victorian postcode 3216 (including Belmont, Highton & Grovedale), but we welcome members and friends from all over Geelong.
---